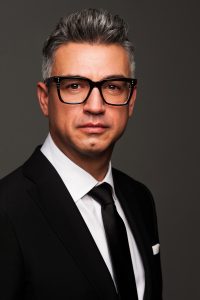 Cristian E. David is Senior Vice President and Brokerage Manager at Sotheby's International Realty, Inc. where he is responsible for the growth and success of the Pacific Palisades, Santa Monica, Venice, Malibu and Topanga offices and their affiliated associates. In his role as a non-compete manager, Cristian is responsible for managing the overall operations and administrative teams, overseeing the brokeraging of both offices' transactions, and strategizing the marketing campaigns for the offices and their impressive roster of high-level residential brokers.  Additionally, Cristian plays an active role in providing support to his agents in listing acquisition and transactional guidance to clients by making himself available to them and his agents.
Cristian has often been asked to step in and manage other company- local offices (Pasadena and Brentwood), and to represent the Sotheby's International Realty at training and educational brand-related events, on topics such as How to Influence, Rocking the Brand, and Coaching with Intention. Most recently, Cristian was invited to present at the Goodfellow Coaching and Consulting company's Millionaire Team Leadership Mastery Summit in Beverly Hills, CA on the topic of Leading Greatly, How Vulnerability and Intentional Living Can Lead to Greatness.  Currently, Cristian is working on developing a regional platform for the company's mentorship program of its newly licensed agents entering this ever-changing and highly competitive Los Angeles luxury real estate landscape.
Cristian has been managing real estate agents since 2009.  He started out as an agent himself in Philadelphia where he quickly climbed to the top 1% of producing agents selling well over $32M in his first 14 months in the business. His primary focus was new development, luxury homes and condominiums, and investment properties. Cristian's avid taste for sales established him in the community as an agent who focused primarily on building strong relationships among his peers.
As a Certified Global Coach for Individuals, Teams, and Executives with Gallup Organization, Cristian also used his highly effective coaching techniques to take his agents' business to the next level and recruit top producing agents. Cristian's top five strengths are Competition, Command, Deliberative, Futuristic, and Activator. His primary focus on coaching agents on their own strengths (Clifton Strengths Coaching), mindset, business goal setting and execution, and team building techniques, including hiring, action training and leadership, has made Cristian as one of the top recruiters within the US and a sought-after leader in coaching and educating agents.
In 2007, Cristian joined Keller Williams Realty and launched the Center City-Philadelphia market center starting with a team of only 60 agents and within three years, he was able to strengthen and establish it as one of the top offices in the entire company. Cristian built his reputation as a strong relationship-based recruiter by attracting top-level quality agents to the firm. He was able to do so through his effective coaching on real estate negotiation skills, high-performance productivity-based techniques and team-building/development strategies.
After over three years in management, Cristian went back into sales and associated himself with Berkshire Hathaway Home Services Fox & Roach. Ten months later, he was recruited to come to Los Angeles and lead the Keller Williams office in Calabasas, and soon after, he was able to establish that branch as a one of the premier real estate offices in that community, in both the luxury and commercial aspects.
Prior to joining Sotheby's International Realty, Cristian managed KW Brentwood in Los Angeles, CA for over three years where he established himself as a trend-setter in increasing productivity per agent and then as a leader in the entire Southern California region. Cristian received numerous invitations from various offices across the US to teach real estate courses and conduct workshops on negotiation skills, selling and buying techniques, and mastering the art of selling in real estate.
Cristian has been involved in the MAPS Leadership Coaching programs at Keller Williams Realty International. Cristian also served as an Ethics Advocate and member of the Professional Standards & Grievance Committees where he sat on arbitrations and ethics hearing panels both at the Beverly Hills Greater Los Angeles Association of Realtors® and is an incoming 2022 Director for Malibu Association of Realtors® where he chairs the Global and Historic Committees and also serves on both the Wellness and Professional Standards committees.
Cristian currently resides in Studio City, CA with his husband Bryan and their two dogs and enjoys giving back in the communities he lives and works in by donating his time and energy to several non-profit organizations that focus primarily on animal welfare, homelessness and children in poverty causes.